-
HIV, Sex- und Partydrogen bei M*SM*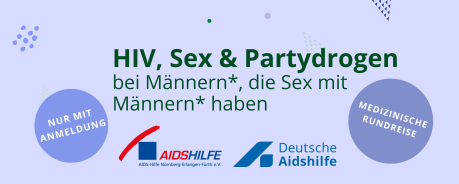 Location
AIDS-Hilfe Nürnberg-Erlangen-Fürth e. V.
Address
Jakobstr. 1
2. Stock
90402 Nürnberg
Germany
Medizinische Rundreise "HIV, Sex- und Partydrogen bei M*SM*" für ehren– und hauptamtliche Mitarbeiter*innen, Menschen mit und ohne HIV, Multiplikator*innen, sowie Mitarbeiter*innen kooperierender Institutionen.

Samstag, 15.04.2023, 10.00 – 17.00 Uhr
AIDS-Hilfe Nürnberg-Erlangen-Fürth, Jakobstraße 1, 90402 Nürnberg – 2. Stock

Moderation: Harald Hägle; Referent: Bernd Vielhaber
Auf Wunsch kann eine Teilnahmebescheinigung ausgestellt werden (bitte bei der Anmeldung angeben).

Mögliche Themen:
Grundlagen Sucht und Drogengebrauch
Settings, Sex und Partydrogen als Tabuthema
Sex- und Partydrogen im Kontext von HIV und HIV-Prävention
Risiken und Maßnahmen der Risikominimierung
Neben- und Wechselwirkungen
Anmeldung bis Freitag, 24.03.2023 unter rene.scheuermann@aidshilfe-nuernberg.de
Für Verpflegung wird gesorgt. Die Veranstaltung ist kostenlos.

Eine Kooperation von AIDS-Hilfe Nürnberg-Erlangen-Fürth e. V. und Deutsche Aidshilfe
About us
In 1985 AIDS-Hilfe Nürnberg-Erlangen-Fürth e.V. was founded as a self-help organization by volunteers and people with HIV.
Our work focuses on:
to support and assist people living with HIV and Aids
prevention work especially for groups affected by HIV and
therefore to offer counseling and testing possibilites on HIV and sexually transmitted infections (STIs)
to inform general population about HIV & STIs
to improve socialpolitical environment